Cave Hotel experience in Turkey: Argos in Cappadocia
Are you looking for an exceptional and unique place? Cappadocia in Turkey has a special atmosphere which is definitely a one-of-a-lifetime experience. We recommend you below the Argos Hotel which provides excellent and luxury cave accommodations.
The Argos Hotel is located in the heart of Cappadocia on the site of an ancient monastery in Old Uchisar Village, Argos in Cappadocia has restored the historical dwellings. It consists of restored underground tunnels and caves to offer guests a very unique and special experience that reflects to the old and magical land. If you like caves, you should definitely try to see what is like to live in one of them. It is totally a different hotel experience that gives you another perspective of life.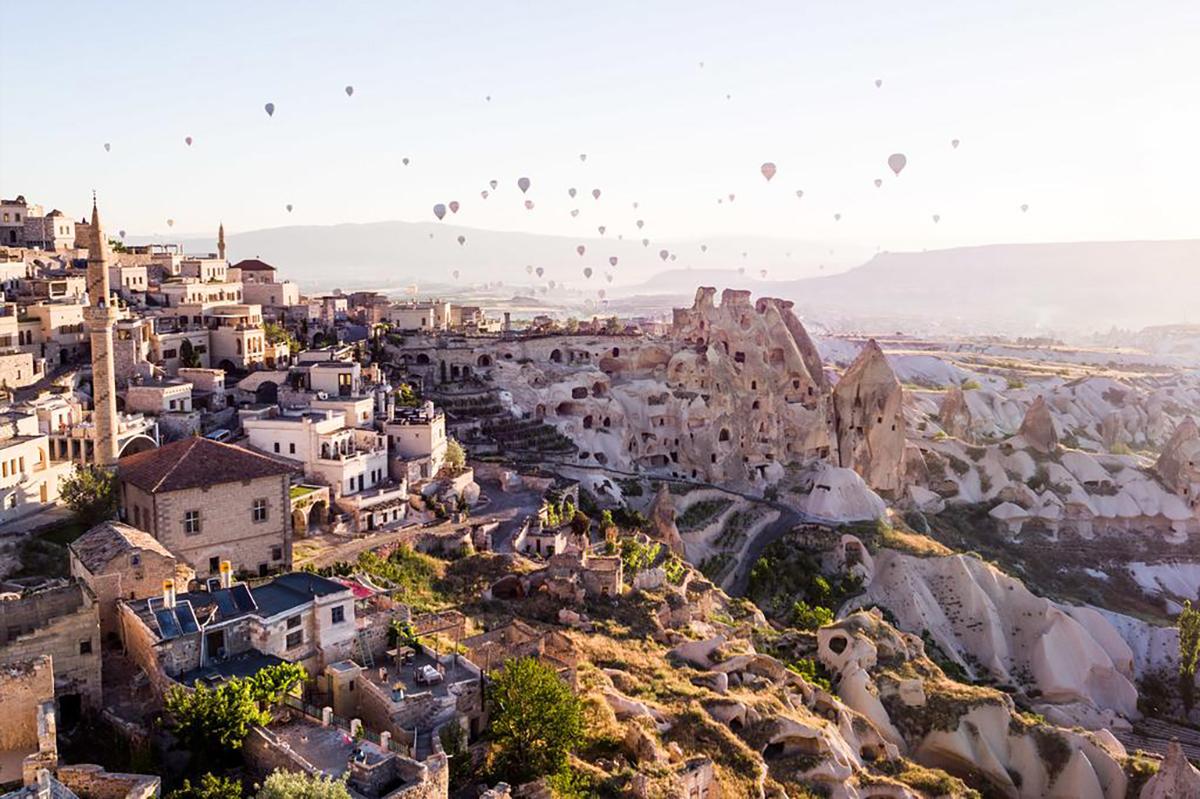 The accommodations are designed in different styles, so that there is a wide range of opportunities regarding rooms and suites. They offer seven different mansions, some of them have private cave pools as well. The historic linseed press has been transferred into a salon where guests can enjoy unique concert experiences. The Argos cave hotel has so much unique and exclusive amenities and facilities that are really a "one of a lifetime" kind of experiences. The hotel has 51 rooms and suites including luxury suites with private cave pools. The rooms are between 17 and 50 square metres in size, and the suites sizes are from 51 to 120 square metres. Regarding the design, it has an authentic style with a touch of modernity. Also, all of the accommodations have inviting nooks, crannies, age-old stone enlivened details, and different kind of authentic interior design elements. Guests can choose between the following room types: Stone Room, Deluxe, Suite and Splendid Suite. Also, there are seven amazing mansions that offer stylish design and world-class services:
Monastery Mansion

Tunnel Mansion

Vasil Mansion

Gemil Mansion

White Mansion

Tranz Mansion

Kavak Mansion: this mansion offers a private outdoor pool as well.

Banner: Banner: cikk banner 02 - ezt a cikk vége felé szúrd be, hogy egy cikkben 2 eltérő banner legyen
Banner: Banner: cikk banner 01 - cikk közepére ezt szúrd be
Here you have the chance to try various types of local foods and ingredients. Their mission is to offer traditional dishes which are a rich cultural and historic heritage. In order to enjoy some Turkish traditional dishes and fresh local ingredients, you should try the following great restaurants:
SEKI Restaurant: their recipe for success is very simple as they only use local fresh ingredients with contemporary cooking techniques. Here everyone is definitely on an excellent gourmet journey.

SEKI Lounge: here you can enjoy a variety of snacks by the crackling fire or on the terrace for a breath of fresh air with a nice cocktail.

SEKI Wine Cellar: here you will find the best wines from the Anatolian region, and you also have the possibility to attend wine tastings, and gain knowledge on Anatolian winemaking and Turkish winemakers. This is a very exciting opportunity!
Here you can check out our ratings:
Location - ★★★★☆
Style and character - ★★★★★
Luxury and elegance - ★★★★☆
Cleanliness - ★★★★★
Service and facilities- ★★★★★
Food and drink - ★★★★★
Rooms - ★★★★★
Banner: cikk banner 02 - ezt a cikk vége felé szúrd be, hogy egy cikkben 2 eltérő banner legyen